After Racially-Charged Clash in South Carolina, Clinton and Obama Turn More Civil Toward Each Other Amid Mounting Talk of the Pair Forming a Democratic 'Dream Ticket' For November; Meanwhile, the GOP Race Is Turning Into a Bitter Ideological Power Struggle of a Magnitude Not Seen in More Than 40 Years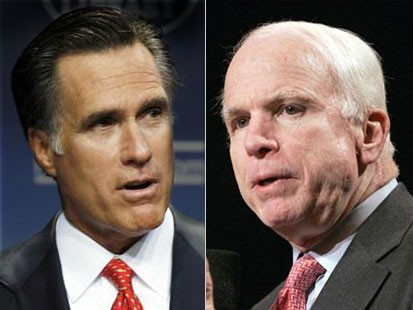 Senators Hillary Clinton of New York and Barack Obama of Illinois (top) are the subject of increasing talk among Democrats of becoming a history-making "dream ticket" for the party in the November general election -- if they can put aside their differences. It's a different story for the Republicans, as former Governor Mitt Romney of Massachusetts and Senator John McCain of Arizona (bottom) have sharpened their attacks on one another. Their rivalry has rapidly become symbolic of a full-scale ideological power struggle for the future direction of the GOP -- quite possibly the most bitter fight since 1964. (Photos: Top -- Evan Vucci/AP; Bottom -- ABC News)

========
COMING THURSDAY -- Special Edition: After the dust settles from "Super Tuesday," where do GOP, Dems go from there?
========
By Skeeter Sanders
As millions of Americans prepare to go to the polls Tuesday in the closest thing to a national primary that this country has ever seen, signs are mounting that the two major parties are going in diametrically opposite directions in terms of campaign conduct.
On the Democratic side, the two remaining candidates for the party's presidential nomination have taken the first tentative steps toward what many Democrats hope will result in a history-making "dream ticket" in the November 4 election, with Senators Hillary Rodham Clinton of New York and Barack Obama of Illinois emerging from the party's August convention in Denver as running mates.
Both candidates refused to explicitly rule out that possibility. But as they campaigned over the weekend, neither Clinton nor Obama sounded like future running mates, as they continued to highlight their differences. Nevertheless, they noticeably refrained from making the kind of slashing attacks that generated much controversy in Nevada and South Carolina.
In sharp contrast on the Republican side, rancor and bitterness has risen sharply as the GOP's top two candidates exchanged increasingly nasty charges and counter-charges at one another. But the rivalry between Senator John McCain of Arizona and former Governor Mitt Romney of Massachusetts is only the tip of the iceberg.
It's rapidly become symbolic of a full-scale ideological power struggle for the future direction of the Party of Lincoln to a degree not seen in more than 40 years -- and which could boil over at the GOP's September convention in Minneapolis.
For the first time since it was conceived in 1984 and put into practice in 1988, "Super Tuesday" -- whose name is more apt than ever this year because it falls just two days after the Super Bowl -- will have the look and feel of a truly national primary, with 24 of the 50 states, from coast to coast and from border to border, in play. In a sense, it will be "November in February," a preview of next fall's general election.
Also for the first time in its history, "Super Tuesday" could fail to settle which candidates will be the undisputed front-runners in either party -- which could bode ill particularly for the Republicans.
Clinton and Obama Make Nice For Now, But Can They Stay That Way?
In their final televised debate before Super Tuesday, Clinton and Obama sparred one-on-one -- for the most part cordially -- over immigration, health care and the war in Iraq Thursday night, clearly recognizing the stakes for both of them after voters in South Carolina's January 26 Democratic primary sent a loud-and-clear message to Clinton that they didn't appreciate her husband's sometimes-ugly, racially-charged attacks on Obama.
Former President Bill Clinton, who, among other things, dismissed Obama's South Carolina victory as comparable to Jesse Jackson's in 1984 and 1988, came under intensely sharp and widespread criticism -- including a strongly-worded blast by this blogger last week -- for trying to paint the charismatic Obama, the first African American presidential candidate with a broad voter appeal, into a corner as "the black candidate," unable to attract white voter support.
Senator Clinton has since acknowledged that her husband's attacks on her rival "went too far" and contributed to Obama's larger-than-expected victory. The Illinois senator trounced the former first lady in the Palmetto State by a 28-point margin, winning every voter demographic except senior citizens 65 years of age and older.
Obama's ridden a huge wave of momentum in the week since then, nearly erasing Clinton's once-huge lead in the national opinion polls, picking up the endorsement of a growing array of political, business and media heavyweights -- including, unexpectedly and with some reservations, the arch-conservative, solidly Republican New York Post.
With former Senator John Edwards of North Carolina, the party's 2004 vice-presidential nominee, dropping out of the race just hours earlier, Clinton and Obama alternated between civility and pointed swipes in their Thursday debate, sponsored and broadcast by CNN, amid a growing desire by many rank-and-file Democrats for the pair to join forces as the party's presidential and vice-presidential "dream team" going into the November 4 election against the eventual GOP ticket.
"The differences between Barack and I pale in comparison to the differences that we have with Republicans," Clinton said early on, in the kind of united gesture that won loud applause from the star-studded audience at the Kodak Theater in Hollywood, site of the Academy Awards. Famous faces in the crowd included Leonardo DiCaprio, Diane Keaton, Steven Spielberg, Stevie Wonder and Jason Alexander.
Is a History-Making Ticket -- A Woman and an African-American -- Possible?
Indeed, CNN anchor Wolf Blitzer, who moderated the debate, asked them about the possibility of a "dream ticket" -- either Clinton-Obama or Obama-Clinton.
"Obviously there's a big difference between those two," Obama quipped about the order of the names -- drawing laughter, then applause. "I respect Senator Clinton, I think her service to this country is extraordinary." But he said, "We've got a lot more road to travel" before such a decision.
Clinton agreed it was too early to discuss running mates. But both candidates predicted that one of them would be the next president in a history-making inaugural. Obama would be the first black president, Clinton the first female president.
Making amends for his apparent snub of her at Monday's State of the Union Address, Obama assisted Clinton by pulling back her chair as the debate began and again as it ended. They then embraced and whispered something to each other as the audience applauded loudly.
But it wasn't all sweetness and light.
One of their most pointed exchanges came on the question of whether illegal immigrants should be able to obtain driver's licenses. Obama supports doing so; Clinton initially supported it and now opposes it.
"Senator Clinton gave a number of different answers over the course of six weeks on this," Obama said, turning to Clinton. "Initially, you said you were for it, then you said you were against it." He said he was raising her wavering to underscore that it is "a difficult political issue."
Clinton called the controversy "a diversion" from efforts to come up with comprehensive immigration reform. "I co-sponsored immigration reform in 2004 before Barack came to the Senate," she said.
Obama argued for his candidacy, saying, "I respect Senator Clinton's record. I think it's a terrific record. But I also believe that the skills that I have are the ones that are needed right now to move the country forward, otherwise I wouldn't be running for president."
Eisenhower's Granddaughter Becomes an 'Obama Republican'
On the heels of President John F. Kennedy's daughter, Caroline Kennedy Schlossberg, endorsing Obama, the granddaughter of Kennedy's predecessor, Dwight D. Eisenhower, also endorsed the Illinois senator.
Susan Eisenhower's backing of Obama is especially noteworthy in that she, like her grandfather, is a Republican, one of a small but growing number of self-styled "Obamicans" -- Republicans for Obama.
And like Schlossberg, who announced her support for Obama in a Sunday op-ed column published last week in The New York Times, Eisenhower chose to back the Illinois senator in her own Sunday op-ed column this week in The Washington Post.
Eisenhower praised Obama for his ability to inspire people and for his desire to work across party lines. "Barack Obama is the one presidential candidate today who can encourage ordinary Americans to stand straight again," she wrote. "He is a man who can salve our national wounds and both inspire and pursue genuine bipartisan cooperation."
Obama can also "assure the world and Americans that this great nation's impulses are still free, open, fair and broad-minded," she continued.
Eisenhower, a founding director and former president of the Eisenhower World Affairs Institute who is now a business consultant and author, pledged to campaign for Obama in the fall campaign if he becomes the Democratic nominee. "This lifelong Republican will work to get him elected and encourage him to seek strategic solutions to meet America's greatest challenges," she wrote. "To be successful, our president will need bipartisan help."
Eisenhower noted that in 1952, both major parties wanted her grandfather, a retired five-star general and hero of World War II, as their presidential candidate. He eventually chose to run as a Republican and won the presidency with the "indispensable" help of a "Democrats for Eisenhower" movement.
"These crossover voters were attracted by his pledge to bring change to Washington and by the prospect that he would unify the nation," she wrote.
Meanwhile, It's All-Out War Between the GOP Candidates
The Republican Eisenhower's endorsement of the Democrat Obama might also have been prompted by the increasing internecine warfare between the leading GOP candidates. McCain and Romney wasted no time in going for each other's jugular -- both during their heated debate Wednesday night at the Ronald Reagan Presidential Library in Simi Valley, California and in the days since.
In sharp contrast to the Clinton-Obama debate on Thursday, McCain, the newly-minted GOP front-runner, clashed heatedly Tuesday night with Romney over Iraq and the economy, sometimes with tough talk, sometimes with dueling sets of facts, in the final GOP debate before Tuesday's vote.
Fresh from a Florida primary victory last Tuesday and an endorsement by former New York Mayor Rudolph Giuliani the next day, McCain alternately flashed anger and used acid sarcasm as he and Romney argued over whether Romney once endorsed timetables for ending U.S. involvement in Iraq.
Even before the debate, McCain cited the previous Friday a Romney interview on ABC's "Good Morning America" last April. "Well," the former Massachusetts governor told ABC, "there's no question that [President Bush] and [Iraqi] Prime Minister [Nouri] al-Maliki have to have a series of timetables and milestones that they speak about, but those shouldn't be for public pronouncement."
Romney cried foul then and protested again Tuesday during the debate, which was also televised on CNN. "Unequivocally, absolutely no," he insisted. "I have never, ever supported a specific timetable for exit from Iraq, and it's offensive to me that someone would suggest that I have."
McCain barnstormed through a skeptical South on Saturday, campaigning for a "Super Tuesday" knockout against Romney. "I assume that I will get the nomination of the party," McCain told reporters, the front-runner so confident that he decided to challenge Romney in his home state of Massachusetts.
Romney, on the other hand, celebrated a caucus victory Saturday in Maine and told reporters he plans to do well on Tuesday, "planning on getting the kind of delegates and support that shows that my effort is succeeding, and taking that across the nation. . . I am encouraged by the support which I'm seeing grow for me."
Behind the Feud: A Power Struggle for the 'Soul of the GOP' Not Seen Since 1964
Behind the McCain-Romney feud is an even bigger battle going on: A full-scale power struggle pitting moderates and traditional conservatives against right-wing hard-liners for the future direction of the Republican Party -- a power struggle that hasn't been this ferocious since the epic battle between liberal Governor Nelson Rockefeller of New York and conservative Senator Barry Goldwater of Arizona for the GOP nomination in 1964.
At the GOP convention in San Francisco that year, Goldwater won the nomination, along with conservative Representative William Miller of New York -- in a snub of Rockefeller -- as his running mate. In his acceptance speech, Goldwater said, among other things, that "we brand communism as a principal disturber of peace in the world today."
But more famously (and used to great effect against him by President Lyndon Johnson), Goldwater said that "I would remind you that extremism in the defense of liberty is no vice. And let me remind you also that moderation in the pursuit of justice is no virtue." That alienated GOP moderates and liberals -- who Goldwater and his conservative supporters railed against as "the eastern liberal establishment."
Looking back, some Republicans, including those within Goldwater's own campaign staff, now acknowledge that those remarks irreparably damaged Goldwater's chances of winning the November election, as he refused to have anything to do with the moderates and liberals in the Republican Party.
Indeed, When Rockefeller tried to deliver a speech, he was booed off the podium by the Goldwater delegates in full view of a live national television audience (Nineteen-sixty-four marked the first time that the two major party conventions were televised live, although there was delayed TV coverage of the conventions of 1956 and 1960).
Conservative 'Godfather' Was Really an Old-Fashioned Libertarian
Conservatives have had a major influence on the Republican Party since that tumultuous 1964 convention and have dominated it since Ronald Reagan was elected in 1980. Indeed, their grip on the Party of Lincoln tightened dramatically during the 1990s while Democrat Bill Clinton was in the White House, with three distinct factions in the conservative majority -- foreign-policy neocons, social-policy Christian rightists and economic-policy supply-siders and taxophobics -- calling the shots.
These three factions over the years have moved farther and farther to the right -- much farther than Goldwater ever did. To call these people "conservatives" is a gross misnomer; they're really hard-line right-wing ideologues.
Indeed, if Goldwater, McCain's political mentor who was known as the "godfather of the conservative movement," was alive today, he'd be branded a "liberal" by today's generation of right-wing ideologues -- some of whom hold views that come dangerously close to outright fascism and who have demonstrated a clear intolerance of dissenting views.
Goldwater, in fact, was an old-fashioned libertarian, who was excoriated by the Christian Right for viewing abortion as a matter of personal choice, outside the purview of government. As a passionate defender of personal liberty, he saw the Christian Right's views on abortion as an encroachment on personal privacy and individual liberties.
In his 1980 Senate re-election campaign, Goldwater won support from religious conservatives, but throughout his final term voted consistently to uphold abortion rights and, in 1981, gave a speech on how he was angry about what he called "the bullying of American politicians" by Christian Right organizations, and vowed to "fight them every step of the way."
A few years before his death in 1998, Goldwater went so far as to address the right wing, "Do not associate my name with anything you do. You are extremists, and you've hurt the Republican Party much more than the Democrats have."
Fast-Forward to '08: Right-Wing Ideologues Launch 'Stop McCain' Movement
Even if, as the latest round of opinion polls suggest, McCain clinches the Republican nomination on Tuesday, there's no guarantee that the Arizona senator will be able to quell the right-wing rebellion against him within the party. In fact, his nomination coiuld potentially lead to the hard-liners abandoning the GOP altogether and backing a right-wing third-party candidate.
McCain -- who won Goldwater's Senate seat in 1986 after his mentor retired -- has drawn the ire of the right-wing ideologues over illegal immigration, campaign finance reform, stem-cell research, and even same-sex marriage. Right-wing radio talk-show hosts, including Rush Limbaugh and Sean Hannity, have been attacking him relentlessly for weeks.
Another right-wing pundit, columnist and author Ann Coulter, even went so far as to pledge to campaign for Clinton -- yes, Clinton -- if McCain is the GOP nominee. This blogger is not making this up. One of the most hard-line right-wing polemicists in the country -- who absolutely hates liberals and despises Democrats -- has publicly declared that she'd rather support Hillary Clinton than John McCain!
Appearing on Fox News Channel's "Hannity and Colmes," Coulter said that she would campaign for Clinton because McCain is not only bad for Republicans, "he is bad for the country.
"If you are looking at substance rather than if there is an 'R' or a 'D' after his name," Coulter said, "manifestly, if he's [McCain] our [GOP] candidate, then Hillary is going to be our girl, because she's more conservative than he is. I think she would be stronger on the war on terrorism."
Limbaugh insists that McCain's popularity with moderates and independents has been drawn from a "fractured" conservative base and an uninspiring field of candidates on the Republican side. "He is not the choice of conservatives, as opposed to the choice of the Republican establishment -- and that distinction is key," Limbaugh said on his show last week.
"The Republican establishment, which has long sought to rid the party of conservative influence since Reagan, is feeling a victory today as well as our friends in the media," Limbaugh continued.
According to exit-poll numbers, among voters who identify as conservative, McCain has consistently lost -- but so far, they've been outvoted by Republicans and independents who figure that McCain is the only GOP candidate who can defeat the Democrats in November. Even in Florida -- whose GOP primary was closed to independents -- moderates still outvoted conservatives, who backed Romney.
Huckabee Hopes for 'Southern Surprise' on 'Super Tuesday'
Meanwhile, as McCain and Romney duke it out, the almost-forgotten man in the GOP race -- former Governor Mike Huckabee of Arkansas -- hopes to pull off a "Southern Surprise" on both his main rivals on "Super Tuesday" by taking the four southern states in play -- Alabama, Georgia, Tennessee and his home state of Arkansas -- where his Christian evangelical voter base is most highly concentrated.
If he succeeds, Huckabee would complicate the GOP race even further -- especially for Romney. Just as McCain has problems with the party's hard-line right-wing ideologues, Romney has a problem with Christian evangelicals bothered by his Mormon faith.
In the South in particular, the overwhelming majority of Christian evangelicals are Southern Baptists -- the nation's largest Protestant denomination -- and Pentacostals. Both denominations consider the Church of Jesus Christ of Latter-Day Saints, as the Mormons are known officially, a cult.
Evangelicals typically do not view Mormons as genuine Christians because of doctrinal differences on the nature of God and the rules of salvation. And so far in this contest, Romney has failed to garner much support among evangelicals.
And he's not alone. Mormons who have ventured into the political arena outside Utah -- particularly on the Republican side -- have found Christian evangelicals rising in opposition. Pam Roach, a Mormon who ran for governor of Washington in the 1990s, lost in the Republican primary after a telephone campaign led by evangelicals urged voters to reject her because she was not a Christian -- whatever that means to them.
Neither Party's Nominee May Be Known Until the Conventions
No matter what happens on "Super Tuesday," the eventual Democratic and Republican presidential nominees may still not become apparent. Late polls show Obama rapidly closing the gap with Clinton, making the outcome of Tuesday's vote totally unpredictable.
And while McCain is poised to deliver a knockout blow to Romney, the hard-line right-wing attack machine is working overtime against him -- which could persuade enough conservatives to vote for Romney. The "wild card," however, remains Huckabee: Will his Christian evangelical base stick with him, or divide their votes?
Some pundits, including this blogger, are forecasting that if McCain clinches the nomination, he may offer the vice-presidential spot to Huckabee, in an attempt to shore up support from the evangelicals and other conservatives.
Never before in the post-World War II history of the United States have Americans witnessed a presidential contest this wide open and unpredictable in both parties. And it's the first time since 1928 that no incumbent president or vice-president is in the running.
Of course, this blogger could be wrong, but it looks to me that "Super Tuesday" may prove to be not-so-super after all.
# # #
Volume III, Number 9
Copyright 2008, Skeeter Sanders. All rights reserved.