GOP Chooses Former Maryland Lieutenant Governor as Its First African-American National Chairman -- But Despite Pledging to Broaden the Party's Electoral Appeal, He's Already Trying to Appease Right-Wing Hard-Liners Who've Dominated the Republicans for More Than 30 Years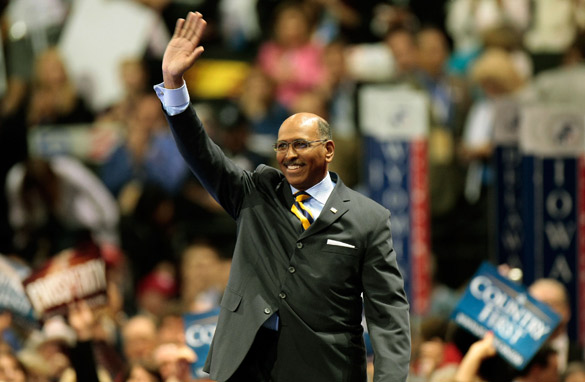 Michael Steele emerged as the winner Friday of a hotly-contested race for the chairmanship of the Republican National Committee, becoming the party's first-ever African-American national chairman. His victory came on the sixth ballot and followed a contest marked by nasty accusations of racism and corruption. But despite promises to broaden the party's electoral appeal, Steele has chosen to appease the right-wing hard-liners who have dominated the GOP for more than 30 years -- and resist the voters' clear mandate for change by calling on Republicans on Capitol Hill to block President Obama's economic stimulus package. (Photo: Getty Images)


(Posted 5:00 a.m. EST Monday, February 2, 2009)
(Updated 12:30 p.m. EST Monday, February 2, 2009)

By SKEETER SANDERS

On the surface, it appears that the Republican Party -- still reeling from two consecutive shellackings at the ballot box in which African-Americans, Latinos, women and young people shunned GOP candidates the way Superman shuns kryptonite -- has finally decided to make a clean break from the regime of conservative, white and mostly Southern males that have dominated the party for more than 30 years.

Or have they?

At its most contentious gathering perhaps since the 1964 Republican National Convention that saw the right-wing takeover of the Grand Old Party from its "Eastern liberal establishment," members of the Republican National Committee elected the party's first-ever African-American chairman Friday, choosing former Maryland Lieutenant Governor Michael Steele to be the party's leader for the next two years after six tumultuous rounds of voting.

Note the key word here is "tumultuous," for Steele beat out four other candidates -- three of them white Southerners and the fifth another African-American -- in a campaign marked by anonymous charges of racism and old-fashioned corruption.

A fifth candidate for the GOP chairmanship, also a white Southerner, abruptly withdrew his candidacy after becoming embroiled in a heated controversy over his distribution to RNC members of a compact disc that contained a song about President Obama that was assailed as being racially offensive.

* * * * * * * *

SPLIT OPENS BETWEEN CONGRESSIONAL GOP, REPUBLICAN GOVERNORS, OVER STIMULUS BILL

The Associated Press

NEW YORK -- Most Republican governors -- including 2008 vice-presidential nominee Sara Palin -- have broken with their GOP colleagues in Congress and are pushing for passage of President Obama's economic aid plan that would send billions to states for education, public works and health care.

Their state treasuries drained by the financial crisis, governors would welcome the money from Capitol Hill, where GOP lawmakers are more skeptical of Obama's spending priorities.

Palin, the governor of Alaska, planned to meet in Washington this week with Senate Republican leader Mitch McConnell of Kentucky and other senators to press for her state's share of the package.

Florida Governor Charlie Crist worked the phones last week with members of his state's congressional delegation, including House Republicans. Vermont Governor Jim Douglas, the Republican vice chairman of the National Governors Association, planned to be in Washington on Monday to meet with Obama at the White House and to urge the Senate to approve the plan.

* * * * * * * *

In the words of a longtime GOP stalwart, it was "the dirtiest race" for the party leadership post ever.

The outcome is being touted by Republicans as marking a new chapter in the GOP's history -- and, coupled with Barack Obama's election as the nation's first African-American president, the beginning of an entirely new chapter in American politics overall.

"We have been misdefined as a party that doesn't care, a party that's insensitive, a party that is unconcerned about minorities, a party that is unconcerned about the lives and the expectations and dreams of average Americans," Steele told reporters Friday in a news conference following his election.

"Nothing could be further from the truth," he continued. "I'm saying enough's enough, that day is over. This is the dawn of a new party moving in a new direction with strength and conviction . . . It's time for something completely different."

Steele vowed that under his leadership, "We're going to say to friend and foe alike, we want you to be a part of us." And, in a remark that some in the mainstream media interpreted as a warning to party conservatives, he added, "To those of you who will obstruct, get ready to get knocked over."

STEELE ALREADY APPEASING RIGHT-WING PARTY HARD-LINERS

However, it appears that despite Steele's promises to the contrary, the GOP will likely remain a fiercely conservative, Southern white-male-dominated party, hell-bent on resisting the voters' clear mandate for change by fighting President Obama and the Democratic majority in Congress tooth and nail.

And it's Steele who appears likely to get "knocked over." Already, the new RNC chairman is seeking to appease hard-line GOP conservatives who consider the moderate former Maryland lieutenant governor too liberal to lead the party, citing his past membership in the Republican Leadership Council, a group of moderate Republicans that sought to curb the dominant influence of hard-line social conservatives in the party.

Almost immediately after his election, Steele told one of his chief rivals, conservative businessman and former Michigan Republican Party Chairman Saul Anuzis, that there will be a place for him in helping to run the RNC under Steele's leadership, according to The Washington Times.

On Saturday, Steele flew to the House Republican retreat at the Homestead resort in Hot Springs, Virginia and urged GOP lawmakers to "remain steadfast" in their opposition to the president's $819 billion economic stimulus package, the newspaper reported.

"I'm proud to say I'm a conservative, have been, always will be," Steele told CNN in early January. "So this notion that I'm a moderate is slightly overblown, and quite frankly a lie."

Steele's overtures to conservatives, however, may not be enough to satisfy one particularly hard-line GOP constituency: Opponents of abortion. Although Steele, a Roman Catholic, is an outspoken opponent of abortion, the Republican Leadership Council which Steele once headed was a staunch supporter of GOP candidates who supported abortion rights. And that makes Steele suspect in the eyes of some anti-abortion activists.

CONTEST FOR GOP CHAIRMANSHIP BRANDED 'DIRTIEST EVER' AMID CHARGES OF RACISM

And while Steele's election as GOP national chairman is being hailed as a milestone in America's often-ugly history of race relations comparable to Obama's ascension to the presidency, it was by no means a walk in the park. To the contrary, Steele won in a bitterly-fought contest that was riven with charges of racism.

The 168 RNC members who cast their votes for their next chairman were bombarded with anonymous e-mails attacking the characters and capabilities of the various candidates, including Steele -- and, in at least one case, accusing a rival candidate of conspiring with political consultants to cash in on the millions of dollars in future advertising by the party.

"This [was] the dirtiest [campaign for the party leadership] ever -- and remember, I was the longest-serving state party chairman in the history of this committee," RNC member and former Ohio Republican Party Chairman Bob Bennett told the Times. Bennett was a staunch supporter of Mike Duncan, the defeated incumbent RNC chairman who sought a second two-year term.

One of Steele's rivals, South Carolina Republican Party Chairman Katon Dawson, became the target of an unsigned e-mail sent to RNC members warning them that if they elected Dawson, the party would be accused of electing a "whites-only" leader.

The e-mail was in the form of a mock USA Today front page that bore a banner headline that read, "RNC members choose 'whites only' chairman."

The intent of the e-mail was clear: The election of Dawson -- who, a month before he declared his candidacy, resigned his membership in an exclusive country club that restricted membership to whites -- would be played up by the media and by Democrats as sending a message that the GOP was a party made up of white Southern males, in spite of his candidacy being supported by several black Republicans in Dawson's home state.

Shawn Steel, a former California GOP chairman, blamed outgoing chairman Duncan for the attacks on Dawson, and accused him and his "entourage of consultants and vendors" of "feeding off the RNC for years" -- a charge Duncan denied.

"I have not, nor to my knowledge has anyone on my team had anything to do with the malicious and anonymous e-mails and accusations that have been distributed," Duncan said in response to Steel's charges. "I sent a personal message sharing this sentiment to all RNC members within the last week."

CANDIDATE IN ROW OVER RACIALLY OFFENSIVE SONG ABOUT OBAMA ABRUPTLY WITHDRAWS

Even before RNC members gathered at Washington's Capitol Hilton Hotel to choose their next chairman, the party was forced to deal with a firestorm of negative publicity over another candidate's mailing to committee members of a compact disc containing a highly controversial song about President Obama that was roundly criticized as being racially offensive.

The song, "Barack, the Magic Negro" -- a parody of the Peter, Paul and Mary classic "Puff, the Magic Dragon" that was recorded by conservative comedian Paul Shanklin -- was distributed by former Tennessee GOP Chairman Chip Saltsman.

It was played on the air during the presidential campaign by conservative radio talk-show host Rush Limbaugh -- who himself generated controversy last week by openly calling for Obama's presidency to "fail" and demanding GOP lawmakers to block the president's legislative agenda.

Saltsman, who ran former Arkansas Governor Mike Huckabee's unsuccessful bid for the 2008 GOP presidential nomination, abruptly withdrew from the race on Thursday without explanation, saying only in a letter to RNC members, "I have decided to withdraw my candidacy." But support for Saltzman's candidacy had collapsed in the wake of the song controversy.

RIGHT-WING HARD-LINERS ATTACKED STEELE RIGHT UP TO BALLOTING

Steele himself was forced to face down vicious accusations by right-wing party hard-liners -- often anonymously -- that he did not possess a true conservative philosophy and that he was actually a social liberal.

On the night before the balloting began, RNC members returning to their hotel rooms found fliers that had been slipped under their doors depicting a partially unfurled roll of bathroom tissue with an accusatory headline: "Soft is fine for toilet paper but not for a chairman of the Republican National Committee!"

The fliers cited Steele's past association with the Republican Leadership Council, which he co-founded with former New Jersey Governor Christie Todd Whitman. A moderate who served as the head of the federal Environmental Protection Agency during former President George W. Bush's first term, Whitman's outspoken support for abortion rights infuriated many social conservatives.

Shortly after Steele announced his candidacy for the party chairmanship, his photograph and all mention of him as a founder of the council disappeared from the RLC Web site. Among the RLC's members include the Log Cabin Republicans, which strongly supports expanding civil rights protections for gays and lesbians.

Steele said he had "joined" the council only to reach out to liberals as a conservative and help "unite the party."

James Bopp Jr., a conservative RNC member from Indiana, issued an e-mail to other committee members in which he openly accused Steele of lying about his relationship with the council.

Bopp quoted Whitman as saying that she was "proud to join with Michael Steele in creating a powerful and influential group that can bring our party back to its roots while promoting the common-sense centrist values we all hold so dear." To many hard-line conservatives in the GOP, the very word "centrist" really means "liberal" and thus is considered an insult.

A PARTY STARING AT THE ABYSS

That the Republicans are the minority party in need of an image makeover is beyond dispute. The number of registered Republicans has fallen to a record-low 21 percent of the electorate, according to a nationwide survey by the Gallup Organization of state voter registration records. Democrats now comprise 45 percent of the electorate, with independents making up the remaining 34 percent.

The survey found that in only seven states do Republicans outnumber Democrats: Alabama, Alaska, Idaho, Kansas, Nebraska, Utah and Wyoming.

All told, 29 states and the District of Columbia had registered Democratic Party majorities of 10 percent or greater over Republicans last year, the poll found. This includes all of the states in the Northeast, and all but Indiana in the Great Lakes region.

An additional six states had Democratic majorities ranging between five and nine percent.

In an alarm bell to the Republicans for future elections, Gallup found that there are now eight states even in the South where Democrats are now the majority of registered voters, albeit narrowly: Arkansas, Florida, Kentucky, Louisiana, North Carolina, Oklahoma, Tennessee and Virginia.

While Democrats have succeeded in swelling their ranks with people from virtually every demographic, Republicans have seen their ranks shrink dramatically, leaving it almost monolithically white. The GOP lost the support of the majority of African-American voters 40 years ago with the advent of Richard Nixon's now-infamous "Southern Strategy" of appealing to conservative white Southerners outraged by the Democrats' support for the civil rights movement in the 1960s.

Now the party has lost the support of Latino voters alienated by the bitter revolt by GOP conservatives that scuttled President Bush's comprehensive immigration reform plan -- a revolt that saw many party conservatives resort to using intemperate, anti-Latino language in their opposition to the plan.

The GOP even lost significant support in the conservative Cuban-American community of southern Florida -- for decades one of its most loyal constituencies -- angered by the Bush administration's imposition of tough new restrictions on visits and remittances to their relatives on the communist-ruled island. Nearly 40 percent of Cuban-Americans voted for Obama in the November election -- the highest level of support for a Democrat by this community on record.

The nationally televised sight of the delegates at the 2008 Republican Convention in Minnesota last summer being almost all-white and predominantly male compared to the rainbow of diversity at the Democratic Convention the previous week in Colorado sent alarm bells ringing both inside and outside the GOP. With whites projected by the Census Bureau to cease being the majority of the U.S. population by 2050, the Republicans cannot afford to remain the almost lily-white party it is now.

The Republicans are just as monolithic ideologically. Liberals ceased to exist in the party nearly 30 years ago. By the time Ronald Reagan won the 1980 Republican presidential nomination, liberals had for the most part been effectively driven out of the party, with many defecting to the Democrats.

It's safe to say that Gerald Ford was the country's last moderate Republican president -- and even he was nearly overthrown at the 1976 GOP convention by the conservative "sagebrush rebellion" led by Reagan (which ultimately contributed to Ford's loss to Democrat Jimmy Carter).

STEELE FACES LONG ODDS IN RESHAPING GOP

Moderate Republicans have been an endangered species ever since -- and are now largely confined to the Northeast and the Midwest. And the farther the GOP has moved to the right, the worse their erosion of electoral support in those regions, plus the West Coast.

There is not a single Republican in the House representing New England. There is not a single Republican in the Senate representing the West Coast. The bulk of the seats the GOP lost in last November's election were in the Midwest and Southwest.

More ominously, the Republicans lost their majority of the nation's state governorships; Democratic state chief executives outnumber their Republican counterparts, 28-22.

Even worse for the Republicans: Democrats now control both houses in 27 of the 50 state legislatures, compared to the Republicans controlling both houses in 14 state legislatures -- nearly all of them in the Deep South and the Rocky Mountain West. Seven legislatures are under split party control.

(Nebraska's single-chamber legislature, although technically non-partisan, is controlled by the GOP. In Alaska, the 20-member state Senate is controlled by a unique coalition of 10 moderate Democrats and five moderate Republicans, with the remaining five seats held by conservative Republicans).

Against this backdrop, Steele has a very tough task ahead of him if he wants to expand the Republican Party's electoral appeal, a task made even tougher by the possibility that some hard-line GOP conservatives may view him as a threat to their dominant influence in the party and try to undermine him.

# # #

Volume IV, Number 9
Copyright 2009, Skeeter Sanders. All rights reserved.


Sphere: Related Content