Firestorm of Controversy Erupts for Parents of 3-Year-Old New Jersey Boy They Named After History's Most Evil Barbarian; His Two Younger Siblings Also Bear Nazi-Inspired Names; Parents Swear They're Not Pro-Nazi, But Local Paper Says the Father Is a Holocaust Denier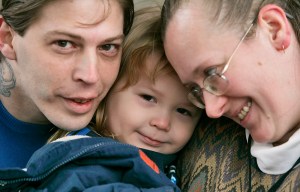 Heath Campbell (left) of Holland Township, New Jersey, with his wife Deborah and their three-year-old son Adolf Hitler, pose in this photo taken in December. The Campbells attempted to buy a birthday cake for their son at a nearby supermarket and were told that the store would not inscribe "Happy Birthday Adolf Hitler" on the cake. When word got out about the cake incident and their son's provocative name, state child-welfare officials stepped in, taking away all three of the Campbells' children -- each of which bear Nazi-inspired names. (AP file photo)


(Posted 5:00 a.m. EDT Monday, March 16, 2009)

By SKEETER SANDERS

What's in a name?

Normally, it's not a big deal, unless you're the namesake of a famous person -- or an infamous person, as the case may be.

It's not uncommon to have the same name as a celebrity -- or even a fictional character. For many years, New Yorkers knew that there was a real-life Clark Kent listed in the Manhattan telephone directory who, despite being made famous by his comic-book namesake -- the mild-mannered alter-ego of Superman -- refused to have his name removed from the directory. So the listing stayed until the real-life Kent died in 1979 at the age of 85.

Everyone knows who James Brown was: "Soul Brother Number One," "The Godfather of Soul," "The Hardest-Working Man in Show Business." But the R&B superstar, who died in 2006, has a namesake who's just as well known: He's the football announcer who co-hosts the Fox Network's "Fox NFL Sunday" pre-game show. Fox's James Brown goes simply by his initials, J.B.

There are even two famous Brian Williamses, both of whom work behind a TV anchor desk. One is the "NBC Nightly News" anchor and the other is the chief sports anchor for Canada's CBC network.

But for Heath and Deborah Campbell of Holland Township, New Jersey, having the same name as an infamous person can be a very big deal -- especially when it's their three-year-old son who has it.

The Campbells named their son after the most infamous person in the history of our planet -- which could potentially subject him to years of social ostracism as he grows up.

Their son's name? Adolf Hitler Campbell.

No, you're not reading a typographical error; it's actually on the child's birth certificate. The Campbells actually named their three-year-old son after the most evil barbarian the world has ever known.

And that's not all. Little Adolf's siblings also have Nazi-inspired names. His one-year-old sister, Joycelynn, bears the full name Joycelynn Aryan Nation Campbell and his 11-month-old sister, Honszlynn, bears the full name Honszlynn Hinler Jeannie Campbell, apparently named after Heinrich Himmler, the infamous head of Nazi Germany's secret police, the Gestapo, and its military arm, the SS.

PARENTS CLAIM THEY'RE NOT NAZI SYMPATHIZERS, BUT. . .

The Campbells swear that they're neither Nazi sympathizers nor white supremacists. They denied being members of the Aryan Nations, despite giving Joycelynn that moniker as one of her middle names.

But according to a local newspaper, Heath Campbell, 35, who said he is of German descent, is a Holocaust denier and sports a Nazi swastika tattoo -- and the Campbell's living room is decorated with Nazi swastikas, war books and World War II-era German Army knives.

About 12 people attended little Adolf's birthday party last December -- including several children who were of mixed race, Heath Campbell told Philadelphia's WCAU-TV. "If we're so racist, then why would I have them come into my home?" he asked.

"He [Hitler] did this stuff, yeah, but that was in the past. America had slavery and everything else," said Deborah Campbell, 25. The couple have been married for three years.

So why did the Campbells give their children such highly provocative names?

They claim they simply like the names. "I think people need to take their heads out of the cloud they've been in and start focusing on the future and not on the past," Heath Campbell told the TV station. "There's a new president and he says it's time for a change; well, then it's time for a change," he continued. "They need to accept a name. A name's a name. The kid isn't going to grow up and do what [Hitler] did."

But a psychologist in nearby Allentown, Pennsylvania said the Campbell children's names -- particularly Adolf's -- would cause problems for them later in life.

FIRESTORM ERUPTED AFTER BIRTHDAY CAKE ORDER GOES AWRY

The controversy erupted a few days before little Adolf's birthday on December 14, when the Campbells asked a Shop-Rite supermarket in nearby Greenwich, New Jersey, to put "Happy Birthday Adolf Hitler" on the toddler's birthday cake.

The store, apparently thinking that the cake was for the Nazi leader -- who was born in Braunau, Austria on April 20, 1889 -- refused, saying it was "inappropriate." The Campbells demanded an apology from the store, but its management refused.

The Shop-Rite store also refused to make a birthday cake bearing Joycelynn's full name. Joycelynn turned 2 in February. The youngest Campbell child, Honzlynn, will turn 1 in April.

A Wal-Mart store in Lower Nazareth Township, Pennsylvania ultimately honored the Campbells' request, but apparently that didn't sit well with some shoppers at the store, for word quickly got out and complaints were filed against Wal-Mart, prompting the management there to review their cake-decorating policies. Until then, Wal-Mart had banned only obscenities.

Ultimately, the story about the Campbell children made the local newspaper, the Lehigh Valley Express-Times, which published a story on December 14 and posted it on its Web site.

After that, all hell broke loose.

CHILD-WELFARE AUTHORITIES TAKE THE CHILDREN AWAY

The authorities were contacted, apparently out of concern that the Campbell children were being abused. Officials of the New Jersey Division of Youth and Family Services -- accompanied by two Holland Township police officers -- went to the Campbell home on January 9 to investigate a complaint related to the children and subsequently ordered their removal.

The nature of the complaint was not disclosed, although Sergeant John Harris of the Holland Township Police Department said he was told that it had nothing to do with the children's names. "There were other factors that we were not privy to," Harris told WCAU-TV. Based on his personal dealings with the father over the past decade, Harris said he had no idea what could have led to the decision.

"I've never known him to abuse his children and when he has talked about his children he has been very much into his kids. Very loving," Harris said, adding that his department had not received any reports of abuse or neglect.

A spokeswoman for the DYFS insisted that the state would not remove children from a home simply because they were given highly controversial names. "Just to be clear: Removal of a child from a family is only done when there's an imminent danger to a child and that wouldn't include the child's name alone," said spokeswoman Kate Bernyk.

PARENTS HAVE RUN-IN WITH COPS IN NEARBY TOWN

Four days after their children were removed from their home, the Campbells were stopped by police in nearby Raritan Township while en route to a hearing in Hunterdon County Family Court.

Deborah Campbell told the Express-Times that police referred to her husband, who was behind the wheel, as "the Nazi guy," questioned him about his tattoos -- which include a swastika -- and, after apparently smelling alcohol inside the car, ordered Heath Campbell to take a sobriety test.

A Raritan Township police spokesman confirmed that officers ordered Campbell to pull over, but ticketed him only for failing to make repairs to his car, a charge stemming from a state inspection of the vehicle that found "deficiencies" that Campbell apparently had never corrected.

Deborah Campbell says it was her mother, not her husband, who was intoxicated. Deborah's mother, whose name was not disclosed, was sitting in the back seat of their car. She was accompanying the Campbells to the hearing on the chance that authorities would release the children to their grandmother if not their parents, Deborah Campbell said.

CAMPBELL KIDS REMAIN UNDER STATE CUSTODY AMID CONCERNS OF FUTURE HARASSMENT

Two months after they were taken from their parents, the Campbell children remain under state custody. Following a hearing last Thursday in Hunterdon County Family Court, the Campbells' attorney, Pasquale Giannetta, said he was "pretty confident" the children will be reunited with their parents.

A decision by the court was still pending as this edition of The 'Skeeter Bites Report neared its Sunday-night deadline for posting on Monday morning.

State officials have remained mum on why the DYFS ordered the children's removal from the Campbell home, citing state confidentiality rules governing Family Court cases involving minors.

That official silence has prompted prompted persistent speculation that the children were taken from their parents precisely because of their names, amid concerns that the children, particularly Adolf, would inevitably be subjected to taunting and harassment over his name when he grows older and attends school -- unless his parents plan to home-school him.

"In three years, they've [DYFS] never been involved with us," Heath Campbell said. "They said it's not about the newspaper articles, but they took them because of their name. I don't care what anybody says."

If the Campbells are guilty of anything, it is of supreme naivete at the very least. No matter how hard his parents try to shield him, Adolf will inevitably face social ostracism from his peers; there is simply no way that a person who bears the name Adolf Hitler can escape it.

Ironically, had they lived in Germany, the Campbells would never have been allowed to name their son after Hitler, for the German Constitution strictly forbids promotion of anything associated with Nazism. In the U.S., however, the Campbells were well within their First Amendment rights to give their son any name they wished.

Nevertheless, why on Earth would any loving parent condemn his or her child to years of ostracism by giving the child the one name that, more than any other, is inextricably associated with the most horrible chapter of human history?

# # #

Volume IV, Number 21
Copyright 2009, Skeeter Sanders.All rights reserved.


Sphere: Related Content