Former Attorney General Breaks From Cheney, Says Holder is Doing the Right Thing By Asserting His Independence From White House in Getting to the Bottom of CIA 'Torturegate' Scandal 'Based on the Facts' -- But Less Than a Month Ago, He Opposed the Investigation as 'Having a Chilling Effect' on Anti-Terrorism Efforts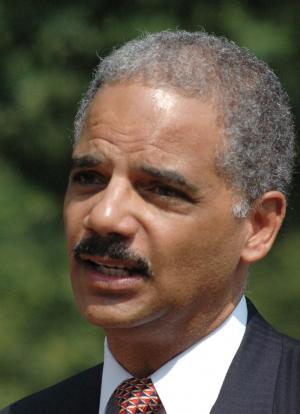 Who's side is he on? That's what many politicians and pundits inside and outside the Washington Beltway are asking of former Attorney General Alberto Gonzales (left), who, in a stunning break with former Vice President Dick Cheney and other conservatives, has defended a decision by his successor, Eric Holder (right), to reopen a Justice Department investigation into whether CIA operatives broke the law in interrogating terrorism suspects. Gonzales said Holder was right to assert his independence in deciding to reopen the investigation "based on the facts." Yet just weeks ago, he opposed any such investigation, warning that it would have a "chilling effect" on future anti-terrorism efforts. (Photos: Agence France-Presse/Getty Images)


(Posted 5:00 a.m. EDT Thursday, September 3, 2009)

By SKEETER SANDERS

Former Attorney General Alberto Gonzales caused a sensation both inside and outside the Washington Beltway on Tuesday when he came out in defense of his successor's decision to reopen an investigation into whether CIA officers tortured terrorist suspects.

In a sharp break from former Vice President Dick Cheney and other conservatives, Gonzales said in a radio interview that Attorney General Eric Holder was correct to move forward with the investigation, despite President Obama's often-stated desire to put the "Torturegate" controversy to rest and move on.

"As chief prosecutor of the United States, he [Holder] should make the decision on his own, based on the facts, then inform the White House," Gonzales said during an appearance Tuesday on "America's Morning News," a nationally syndicated radio program produced by The Washington Times, which published an exclusive story based on the interview on Wednesday.

Gonzales' comments marked a dramatic reversal from remarks he made in an earlier interview less than a month ago, in which he opposed any such investigation. The former attorney general told the Associated Press on August 11 that any criminal investigation into whether CIA interrogations of terrorism suspects crossed the line into torture could have a chilling effect on future anti-terror efforts.

Gonzales told the AP that if the Justice Department launched an investigation, it "could discourage" CIA operatives from "engaging in conduct that even comes close" to department guidelines. "So where do you draw the line?" he said. "What is allowed, what's not allowed?"

GONZALES: HOLDER ACTED PROPERLY IN NAMING SPECIAL PROSECUTOR

In his radio interview, Gonzales said that as attorney general, Holder has a "great deal of discretion" in such matters, but denied having any inside information on whether Holder acted alone in deciding to name a special prosecutor, John Durham, to head the "Torturegate" investigation, then informing the president of his decision.

In sharp contrast to Cheney, who has been highly critical of Holder, Gonzales said he was confident that Holder is concerned only about the "one percent of actors" who went beyond the guidelines of Justice Department lawyers, and not conducting a "witch hunt."

The other 99 percent "are heroes and and should be treated like heroes for the most part, not criminals," he said. Gonzales said Bush administration lawyers clearly defined what interrogation techniques were legal and the few who went beyond the rules should be investigated, despite the so-called "chilling effect" it might have on future intelligence-gathering.

"We worked very hard to establish ground rules and parameters about how to deal with terrorists," the Times quoted Gonzales as saying. "And if people go beyond that, I think it is legitimate to question and examine that conduct to ensure people are held accountable for their actions, even if it's action in prosecuting the war on terror."

REMARKS A DRAMATIC CONTRAST FROM EARLIER CRITICISM OF PROBE

Gonzales' comments marked a dramatic reversal from remarks the former attorney general made in his earlier interview in Lubbock, Texas with the AP, in which he said that any such investigation "could discourage" CIA operatives from "engaging in conduct that even comes close" to department guidelines.

Gonzales said at the time that he had talked to CIA attorneys who had heard from the spy agency's operatives. "They're very, very concerned about the legal liability and legal exposure," he told the AP. "And that's the danger with launching some kind of investigation. But, again, this is a decision that's got to be made by the current attorney general."

The former attorney general's radio interview also puts him at odds with Cheney, who bluntly accused Obama on Sunday of setting a "terrible precedent" by launching an "intensely partisan, politicized look back at the prior administration" -- remarks that strongly suggested that the former vice president was calling into question Obama's fitness as commander-in-chief.

Appearing on "Fox News Sunday," Cheney minced no words in attacking Holder's decision to reopen the "Torturegate" probe. "It offends the hell out of me," he said. "I think it's a direct slap at the CIA. I don't think it will work."

In unusually blunt language, Cheney blasted the president for not overruling Holder. "We had the president of the United States, President Obama, tell us a few months ago there wouldn't be any investigation like this, that there would not be any look back at CIA personnel who were carrying out the policies of the prior administration," Cheney said. "Now they get a little heat from the left wing of the Democratic Party, and they're reversing course on that."

GONZALES' TURNABOUT DRAWS MIXED REACTIONS

Gonzales' latest comments stunned both human-rights activists and Beltway Republicans -- and, not surprisingly, drew mixed reactions.

Tom Malinowski, the Washington advocacy director for Human Rights Watch, was quoted by The Washington Times as saying that "there's a kind of dumb honesty to Gonzales."

Malinowski told the newspaper that "There is no reason why he [Gonzales] shouldn't support this investigation because, at least on the face of it, it appears to validate the Bush-era legal memos concerning interrogations" and added that CIA officials who authorized controversial interrogation techniques, such as waterboarding, "have nothing to fear."

On the other hand, at least one congressional Republican took issue with Gonzales. Representative Peter King (R-New York), the ranking Republican on the House Committee on Homeland Security and a member of the House Permanent Select Committee on Intelligence, said he was mystified with the former attorney general's motives.

"I don't know the reason for it," he told the newspaper. "I just think Gonzales is missing the larger point here: This is either a political decision or a liberal philosophical decision by Holder. [This] has all the indicators of a political investigation, a political decision [because] these cases have already been investigated by the Justice Department, have already been examined, to reopen them has to have a chilling effect and violates the spirit of double jeopardy."

The Justice Department declined to comment on Gonzales' remarks.

GONZALES' OWN TENURE AS ATTORNEY GENERAL HIGHLY CONTROVERSIAL

Gonzales, appointed by President George W. Bush in 2005 as the first Latino to serve as attorney general, is no stranger to controversy. Under his two-year tenure, the Justice Department and the FBI were accused of improperly, and perhaps illegally, using the post-9/11 USA Patriot Act to uncover personal information about U.S. citizens.

His inability to explain his role and influence in the highly controversial dismissal of nine U.S. attorneys -- particularly the firing of U.S. Attorney David Iglesias -- and his interpretations of the Constitution led several members of Congress from both major parties to call for his resignation. The dismissals are now the subject of a separate criminal investigation ordered by Holder.

When The New York Times revealed in December 2005 that the National Security Agency (NSA) was eavesdropping on U.S. citizens without proper warrants, Gonzales threatened to prosecute journalists for leaking classified government documents, raising the specter of a First Amendment confrontation between the Bush administration and the media reminiscent of the court battle in the 1970s between the Nixon White House and the media over publication of the Pentagon Papers.

But it is the treatment of terrorism suspects after the 9/11 attacks that has generated the most controversy. Gonzales, who previously served as Bush's White House counsel, drew fire for approving legal opinions written by John Yoo of the Office of Legal Counsel that became known as the "torture memos." One such memo suggested that Geneva Conventions protections for prisoners of war did not apply to Taliban guerrillas in Afghanistan or al-Qaida suspects held worldwide.

Those memos have led to calls for Gonzales' disbarment from practicing law and even for the, prosecution of the former attorney general and other Bush administration lawyers.

# # #

Volume IV, Number 66
Copyright 2009, Skeeter Sanders. All rights reserved.


Sphere: Related Content