'Teabaggers' Aggressively Pushing Hoffman's Candidacy Prompt Poll Workers in Two Towns in 23rd Congressional District to Call the Cops to Stop Them From Violating State Law Against Campaigning Within 100 Feet of Voting Stations; Backlash Against $2 Million Ad Blitz By Outsiders May Have Cost Hoffman the Race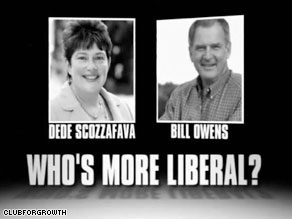 A blizzard of campaign TV ads by out-of-state political groups, such as this one by the right-wing Club for Growth that attacked both Republican Dede Scozzafava and Democrat Bill Owens as "too liberal," -- combined with aggressive "robocalls" supporting Conservative Party candidate Doug Hoffman -- proved to be a major turn-off to many voters in New York's 23rd Congressional District. Resentment toward the "outsiders" boiled over on Election Day, when poll workers in at least two towns called police to keep supporters of Hoffman from violating a state law that bans campaigning within 100 feet of voting stations. (Photo courtesy CNN)


(Posted 5:00 a.m. EST Thursday, November 5, 2009)

By SKEETER SANDERS

Right-wing groups and conservative Republican leaders -- having forced out the official GOP nominee in a special election for an upstate New York congressional seat because they considered her "too liberal" -- thought they had the election in the bag with their $2 million advertising campaign on behalf of the Conservative Party candidate.

But in the end, the voters of the sprawling district, the largest in the Northeast, had other ideas -- and in the process, made a bit of history.

Not since before the Civil War, more than 140 years ago, has New York's 23rd Congressional District been represented by a Democrat -- until now.

In a hotly-contested election that saw as many twists and turns as a soap opera, Democrat Bill Owens -- with the dramatic, 11th-hour backing of the ousted Republican candidate, Dede Scozzafava -- defeated Conservative Doug Hoffman to serve the unfinished term of moderate Republican John McHugh, who resigned in June to serve as secretary of the Army in the Obama administration.

With all the ballots in the nationally-watched contest counted, Owens garnered 49 percent of the vote to Hoffman's 45 percent. Scozzafava, who threw the race into uncertainty with her stunning withdrawal on Saturday and her equally dramatic endorsement of Owens on Sunday, still managed to draw six percent of the vote.

The race was touted as a test of strength of the right-wing "Tea Party" movement -- whose members are referred to, with some derision, as "Teabaggers" -- which made headlines this past summer with their noisy protests at town-hall forums on health-care reform and which has declared an all-out jihad against Republicans whom they see as too liberal.

But in the end, at least for this year, the "Teabaggers" -- nearly all of whom came from outside the state -- lost. They lost because they simply didn't know the district. In fact, they ruffled more than a few feathers with their overly aggressive campaign against Owens and Scozzafava and in favor of Hoffman.

HOFFMAN SUPPORTERS VIOLATE 'NO-ELECTIONEERING' ZONES AT POLLING STATIONS

In turns out that some of Hoffman's supporters weren't following the rules -- and ended up getting the cops called on them. According to the Watertown Daily Times, elections officials in at least two towns in the district called police to get members of an anti-abortion group supporting Hoffman to move beyond the 100-foot perimeter of the voting stations.

State law prohibits overt campaigning -- or, as the law defines it, "electioneering" -- within 100 feet of a voting station. Members of the anti-abortion group were distributing pamphlets urging voters to cast their ballot for Hoffman, a hard-line social conservative who declares on his campaign Web site that "I am pro-life, period" and that he strongly opposes same-gender marriage.

Joy Yearout, a spokeswoman for the group, the Susan B. Anthony List, disputed the elections officials' reasoning for calling the police, telling the Daily Times one of her volunteers in Fowler encountered police officers without incident. "The police came and said he was fine," she said.

Yearout accused elections officials of being "overzealous" and of "using the only tool they have, and that's intimidation."

OTHER VIOLATIONS BY HOFFMAN PARTISANS REPORTED IN DISTRICT

The 23rd Congressional District in the northeastern portion of the state, is a sprawling area that includes all or parts of Clinton, Essex, Franklin, Fulton, Hamilton, Jefferson, Lewis, Madison, Oneida, Oswego and St. Lawrence counties. It includes the cities of Ogdensburg, Oswego, Plattsburgh (part of the Greater Burlington, Vermont metropolitan area) and Watertown. The district includes most of the Adirondack Mountains and the Thousand Islands region, and borders Canada to the north.

In Watertown, the county seat of Jefferson County, the two county commissioners in charge of elections personally responded to complaints of violations of the 100-foot rule by Hoffman partisans at three voting stations. Noting that the pro-Hoffman volunteers were from out-of-state, the commissioners informed them of the 100-foot rule, set up signs marking the voting station boundary and politely told the Hoffman partisans to stay outside the boundary lines.

In Lewis County, elections officials ordered the removal of Hoffman campaign signs that were placed within the 100-foot perimeter of a Lowville voting station.

Elaine McLear, a Lewis County elections commissioner, was unhappy with what she saw as a lack of discipline by the Hoffman campaign. "I just feel like the candidate should have their workers under control," McLear told the Daily Times. "There are ways to handle things, and we had to do what we thought was proper."

BLIZZARD OF TV ATTACK ADS, 'ROBOCALLS' A HUGE TURN-OFF TO VOTERS

The apparent overzealousness of Hoffman campaign workers on election day may have had an adverse effect on the final outcome. Although there were no exit polls conducted in the district, local newspapers were filled with editorials and letters to the editor complaining bitterly about what many in the district said was a level of campaign nastiness they had never seen before in a local election.

Local TV and radio stations across the district -- from Syracuse to Burlington -- were saturated during the final two weeks of the campaign with campaign attack ads in a frenzied blitzkrieg by right-wing out-of-state groups to the prevent the House seat from going to either Owens or Scozzafava -- concentrating their fire most heavily on Scozzafava.

Some of the nastiest ads were by the right-wing Club for Growth, which saturated the airwaves with ads attacking both Owens and Scozzafava as "too liberal."

But by far the single most controversial ad of the campaign was one that, at first glance, appeared to be an endorsement of Scozzafava by a liberal group -- but turned out instead to be a "dirty trick" ad by conservative billionaire Arkansas businessman Jackson T. (Steve) Stephens, Jr., member of the board of directors of the Club for Growth -- which heavily backed Hoffman.

Stephens, president and CEO of the Little Rock, Arkansas-based pharmaceutical company ExOxEmis, Inc. and a longtime contributor to conservative Republican candidates, personally donated $4,800 -- the legal maximum under New York state election law -- to Hoffman's campaign, and is one of the Club for Growth's leading donors, according to records on file with the Federal Election Commission.

Also annoying to voters was a massive blitz of automated telephone calls -- known as "robocalls" -- featuring the recorded voices of former Alaska Governor and GOP vice-presidential nominee Sarah Palin and former Senator Fred Thompson (R-Tennessee), who urged voters to cast their votes for Hoffman.

The right-wing activists tried their best to scare voters by bringing up House Speaker Nancy Pelosi as a liberal bogeyman. But although the 23rd Congressional district has been a solidly Republican district for more than 140 years, it's not a solidly conservative one -- as evidenced by President Obama carrying the district in last year's election and Owens' victory on Tuesday.

Moreover, McHugh, the wildly popular Republican who vacated the seat -- he won re-election last year by a 65 percent landslide -- is a moderate.

HOFFMAN IS NO JAMES BUCKLEY -- OR BARRY GOLDWATER

Conservatives were hoping to repeat the feat of James L. Buckley, the older brother of the late conservative commentator and National Review magazine publisher William F. Buckley, who in 1970 was elected to the U.S. Senate on the Conservative Party line with 38 percent of the vote, defeating a liberal Republican incumbent, Charles Goodell and a liberal Democrat, Richard Ottinger, to become the first -- and to date, the only -- third-party candidate to win a statewide election in New York.

Buckley was ousted six years later by Democrat Daniel Patrick Moynihan.

Ironically, Buckley, now 86 and a retired federal judge, would be considered a "squishy moderate" or even a "liberal" by the hard-line conservatives of today -- as was the late former Senator Barry Goldwater (R-Arizona), the 1964 Republican presidential nominee considered "the godfather of the conservative movement."

Although considered a right-wing extremist in the 1960s for his strident opposition to nuclear arms control and civil-rights legislation, Goldwater was really an old-fashioned libertarian conservative -- whose libertarian views on social issues in his later years outraged many social conservatives. He endorsed Democrat Karan English in an Arizona congressional race in 1994, urged Republicans to lay off President Bill Clinton over the Whitewater scandal and criticized the military's ban on gays.

"Everyone knows that gays have served honorably in the military since at least the time of Julius Caesar," he said. "You don't have to be straight to be in the military; you just have to be able to shoot straight." He further angered social conservatives by testifying before the city council of his hometown of Phoenix in favor of an ordinance to ban discrimination against gays and backing a statewide voter initiative to legalize medical marijuana.

In a 1994 interview with the Washington Post the retired senator said, "When you say 'radical right' today, I think of these moneymaking ventures by fellows like Pat Robertson and others who are trying to take the Republican Party and make a religious organization out of it. If that ever happens, kiss politics goodbye."

Goldwater finally broke outright from social conservatives -- particularly the Religious Right -- a few months before his death in 1996 when he bluntly warned them: "Do not associate my name with anything you do. You are extremists, and you've hurt the Republican Party much more than the Democrats have." He told Bob Dole, whose own presidential campaign that year received lukewarm support from social conservatives, "We're the new liberals of the Republican Party. Can you imagine that?"

The ideological rigidity of today's conservatives -- as embodied in the "Tebagger" movement -- may prove fatal to the Republican Party in the long run.

# # #

Volume IV, Number 84
Copyright 2009, Skeeter Sanders. All rights reserved.


Sphere: Related Content