Pastor Terry Jones Might Not Have Carried Out His Planned Burning of Korans, But a Gay-Hating Kansas Cult Went Ahead and Did Just That -- and So Did Other Christian Extremists, a Sure Sign That Paranoid Religions Fanaticism Is No Longer Limited to Radical Muslims and Potentially Poses the Greatest Threat to World Peace Since the Cold War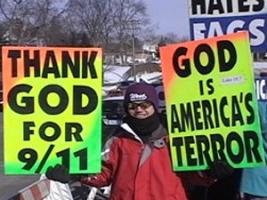 A member of the rabidly anti-gay Westboro Baptist Church holds provocative protest signs during the 2006 funeral in Minnesota of a U.S. soldier killed in Iraq. Westboro made good on its promise Saturday to burn copies of the Koran and the American flag outside its headquarters in Topeka, Kansas. There was also a Koran burning in Tennessee and an unidentified man ripped out pages of the Muslim holy book and set them afire during a protest rallies both for and against a proposed Islamic center and mosque near Ground Zero in New York. (Photo courtesy Minnesota Public Radio)


(Posted 5:00 a.m. EDT Tuesday, September 14, 2010)

By SKEETER SANDERS

As America marked the ninth anniversary of the September 11, 2001 terrorist attacks over the weekend, the solemn remembrances of the more than 3,500 people who lost their lives were overshadowed by a raging global firestorm sparked by a disturbing rise in anti-Muslim sentiment.

Ceremonies at New York's Ground Zero to mark the destruction of the World Trade Center took a back seat to massive demonstrations both for and against construction of an Islamic community center and mosque to be located two blocks away on Park Place -- during which an unidentified man ripped out pages from a copy of the Koran and set them afire.

A Florida pastor who drew international condemnation after he announced plans to burn copies of the Muslim holy book backed off at the last minute. But that didn't stop a gay-hating cult in Kansas from staging its own Koran burning. Members of the Kansas-based Westboro Baptist Church burned not only a Koran, but also an American flag outside their headquarters in Topeka.

Westboro, made up entirely of relatives and in-laws of its iron-willed leader, Fred Phelps, has generated nationwide outrage in recent years -- including a lawsuit that will be heard before the Supreme Court later this fall -- over its viciously homophobic protests at the funerals of U.S. soldiers killed in Iraq and Afghanistan. The cult believes that U.S. troops are dying as "God's punishment for America's tolerance of homosexuality" and attacks Muslims as following a "false religious system with a pedophile as its prophet."

TENN. MINISTERS, N.Y. PROTESTER ALSO BURN KORANS -- FLA. MOSQUE FIREBOMBED

Westboro wasn't alone. In Springfield, Tennessee, two local Christian ministers held a private Koran burning Saturday in the backyard of their home. The Rev. Bob Old and the Rev. Danny Allen denied that they were holding their Koran burning to protest the Park 51 project in New York. "It's about faith, it's about love, but you have to have the right book behind you," said Old, as he held up a copy of the Koran before setting it aflame. "This is a book of hate, not a book of love."

Meanwhile, an unidentified man tore out pages from a copy of the Koran and set the ripped pages aflame during a massive protest against the proposed Park 51 Islamic center, the New York Daily News reported Sunday. He was not arrested. A second man also tore pages out of a Koran and offered them to anyone in the crowd as "toilet paper," according to the newspaper.

Most disturbing was an incident that happened in Jacksonville, Florida in May, but didn't become national news until last month: A mosque was firebombed while worshippers were inside for Friday prayers. A surveillance video released by the FBI showed a middle-aged white man believed to be carrying a can of gasoline walking in the courtyard of the Jacksonville Islamic Center of Northeast Florida on the night of the incident.

The FBI is investigating the incident as a possible hate crime and act of domestic terrorism, a bureau spokesman told radio station WOKV. "It was a dangerous device, and had anybody been around it, they could have been seriously injured or killed," said spokesman James Casey. "We want to sort of emphasize the seriousness of the thing and not let people believe that this was just a match and a little bit of gasoline that was spread around."

ANTI-MUSLIM INCIDENTS IN U.S. SPARK ANTI-CHRISTIAN VIOLENCE OVERSEAS

The Koran burnings in the U.S. triggered an outbreak of anti-Christian violence by outraged Muslims in India, Afghanistan and Indonesia.

In India, violence erupted in the Kashmir Valley and in two towns in Punjab state, the New Delhi-based Indo-Asian News Service reported Monday. At least three people were killed and several people were injured when rioting mobs burned a Christian missionary school to the ground in the Muslim northern Kasmir town of Tangmarg.

Indian authorities imposed a round-the-clock curfew throughout the territory, but angry Muslims continued to stage protests in the Pulwama district of southern Kashmir, shouting pro-Koran and anti-American slogans, IANS reported. Similar protests erupted in the city of Srinagar in Punjab state, which borders Pakistan. There were conflicting reports about the fate of a Christian church in Srinagar. Some reports said the church was torched, but others said that only its wooden cross was set afire by the protesters.

In Afghanistan, two people were killed and half a dozen injured as protests held against the event on Sunday turned violent, the Los Angeles Times reported. Hundreds of protesters in Lowgar province, south of the Afghan capital, Kabul, tried to storm the provincial governor's headquarters. Afghan police responded by firing on the crowd.

And in Indonesia, a Christian worshipper and a minister were attacked by assailants as they headed to Sunday morning prayers at a church in the city of Bekasi, 25 miles east of the capital,Jakarta, according to Catholic Online, a Catholic news and information Web site.

The worshipper was stabbed in the stomach and the minister was hit on his head with a wooden plank. Neither victims' injuries appeared to be life-threatening. No one claimed responsibility for the attacks, Catholic Online reported, but a group of Muslim hard-liners are suspected.

Indonesia, the world's most populous majority-Muslim country with 220 million people, is a secular democracy with a long history of religious tolerance. But Islamic militants have been been agitating in recent years for the imposition of Sharia law. Indonesian President Susilo Bambang Yudhoyono condemned the attack and vowed to bring the assailants to justice.

FLASHBACK TO 2006: THE CONTROVERSIAL PROPHET MOHAMMED CARTOONS

Those who burned Korans over the weekend had to have known that they would provoke strong and even violent reactions among many Muslims. One only has to look back four years, when a Danish newspaper, the conservative Copenhagen daily Morgenawisen Jyllands-Posten, published a series of highly unflattering editorial cartoons depicting the Prophet Mohammed.

That the cartoons depicted any image at all of the prophet -- which is strictly taboo in the Muslim world and considered even by moderate and secular Muslims to be the ultimate blasphemy against their faith -- is bad enough. That they depicted Mohammed in an unflattering, even mocking, light -- including one cartoon showing the prophet wearing a turban the looked like a bomb -- made the outrage among Muslims even more heated and ultimately, it boiled over into violence.

Thousands of enraged Muslims rampaged in Beirut on February 5, 2006, setting fire to the Danish Embassy, burning Danish flags, lobbing stones at a Maronite Christian church and ransacking a Christian neighborhood in the Lebanese capital.

Troops fired bullets into the air and used tear gas and water cannons to push the crowds back after a small group of Islamic extremists tried to break through the security barrier outside the Beirut embassy. Flames and smoke billowed from the building. Security officers said that at least 30 people had been injured in the violence.

When other European newspapers republished the cartoons, the violence spread across the Middle East, as angry mobs torched the Danish Embassies in Syria, Lebanon and Iran, stormed and ransacked European Union buildings, and desecrated the Danish, Dutch, Norwegian, French and German flags in Gaza City.

In an editorial published on January 30, 2006, the editors of Jyllands-Posten, while defending their right to publish the cartoons, nonetheless apologized, stating that "they have indisputably offended many Muslims."

A DANGEROUS NEW COMBUSTIBLE ELEMENT: CHRISTIAN EXTREMISTS

While the motivations of the newspapers' printing of the Mohammed cartoons remains a subject of debate, there's no doubt about the motivations of those who burned the Koran this past weekend: Sheer anti-Muslim bigotry. They did it deliberately, fully aware that it would be extremely offensive to Muslims and knowing that it would provoke a violent response from Muslim hard-liners.

That the Koran burners were Christian extremists who, like Pastor Terry Jones, believe that "Islam is of the Devil" -- or, in the case of the virulently homophobic Westboro cult, believe that Muslims "follow a pedophile prophet" -- introduces a dangerous new combustible element in this age of the Internet that, if left unchecked, could threaten world peace to a degree not seen since the 40-year Cold War between the United States and the now-defunct Soviet Union.

In the nine years since 9/11, religious extremism can no longer be seen by Americans -- or the world -- as the exclusive province of Islamic radicals. There are also radical Christians among us, some of them all too eager to re-launch a crusade against "the Islamic devil."

For centuries, religious leaders have perpetuated and reinforced this "us-versus-them" mentality by preaching that there is only one true pathway for humans to relate to God, that all other pathways are false and that those who follow those other pathways are wrong -- even "evil" -- and must be opposed by whatever means necessary.

If it's not put in check, this "us-versus-them" mentality will ultimately destroy us all.

# # #

Volume V, Number 36
Copyright 2010, Skeeter Sanders. all rights reserved.


Sphere: Related Content