In New York, Carl Paladino Acts Like a Mob Boss by Threatening to 'Take Out' Reporter; In California, Meg Whitman Is Exposed as Hypocrite on Volatile Issue of Employing Illegal Immigrants; In Delaware, Christine O'Donnell Is Caught Lying on Her Job Resumes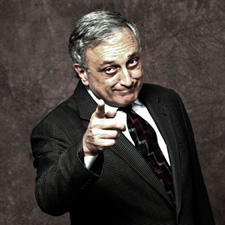 GOP CANDIDATE FOR N.Y. GOVERNOR THE TONY SOPRANO OF POLITICS? -- From the day he won the his party's nomination, Republican gubernatorial candidate Carl Paladino (left) made good on his promise that the campaign to become New York's next governor -- already nasty -- would get a lot nastier: Not only has he accused his Democratic rival, Andrew Cuomo, of infidelity, but in an extraordinary confrontation captured by TV cameras, the Tea Party-backed GOP nominee acted like the fictional New Jersey Mob boss Tony Soprano (right) when he made a threat against Fred Dicker, state news editor of the New York Post, telling Dicker, "I'll take you out, buddy!" When the equally tough-talking Dicker asked him how he'd "take me out," Paladino replied, "Watch!" (Photos courtesy Buffalo News and HBO)


(Posted 5:00 a.m. EDT Tuesday, October 5, 2010)

By SKEETER SANDERS

With just a month to go before the November 2 midterm elections, the campaign has been jolted by a series of controversies involving Republican candidates, in what appears to be a repeat of the scandal-plagued GOP campaign of 2006.

In quick succession over the past week, Carl Paladino, the Tea Party-backed Republican nominee for governor of New York, made headlines for hurling lurid accusations against his Democratic rival, state Attorney General Andrew Cuomo, accusing him of infidelity after Paladino acknowledged his own extramarital affair -- and threatening to "take out" a reporter who challenged him to provide evidence.

On the other side of the country, Meg Whitman, the GOP nominee for governor of California, suddenly became embroiled in a scandal when her former housekeeper, an illegal immigrant from Mexico, sued Whitman for anti-Latino discrimination and her attorney accused Whitman -- who has talked tough on the campaign trail about employers who hire illegal immigrants -- of rank hypocrisy.

And in Delaware, Christine O'Donnell, the Tea Party-backed Republican candidate running for Vice President Joe Biden's old Senate seat -- already plagued by one controversy after another over her past history as a Christian Right activist -- was caught having lied about her education on her job resumes.

PALADINO ACTS LIKE MOB BOSS -- IN FULL VIEW OF TV NEWS CAMERAS

Paladino took the campaign for New York governor into the gutter on Wednesday when he accused Cuomo of having "paramours" -- only hours after he told a reporter for WNYW-TV, the Fox station in New York City, that the already-nasty race would get a lot nastier. "I don't mind being nasty, okay?" Paladino told the station.

"Has anybody asked Andrew Cuomo about his paramours?" Paladino asked in an interview with Politico.com, referring to Cuomo's 13-year marriage to his former wife, Kerry Kennedy, a daughter of the late Senator Robert F. Kennedy.

"When he was married -- or asked him why his wife left him or threw him out of the house? Has anybody ever done that?" Paladino -- who admitted having an extramarital affair of his own a decade ago that produced a daughter -- demanded.

But, in fact, it was Kennedy who was having an extramarital affair -- with Bruce Colley, a New York restaurateur and socialite. Colley confirmed the affair in 2003 just days after Cuomo and Kennedy announced they were ending their marriage.

Challenged by a New York Post reporter to provide evidence to back up his accusations against Cuomo, Paladino -- in full view of television news cameras -- accused the reporter of working for the Cuomo campaign and, acting as though he were Tony Soprano, the fictional New Jersey crime boss in the acclaimed television series, "The Sopranos," warned the reporter, "I'll take you out, buddy!"

When the equally tough-talking Fred Dicker, state news editor of the Post and the dean of the Albany press corps, demanded to know how Paladino would "take him out" -- widely interpreted as a threat of bodily harm -- Paladino replied, "Watch!" before he was hustled away by his aides while an indignant Dicker shot back, "Are you threatening me?".

Paladino admitted the following day -- after his confrontation with Dicker made front-page headlines across the state -- that he had no proof of Cuomo's alleged infidelities, acknowledging that he made the accusation out of frustration with questions about his own affair.

CUOMO STRIKES BACK AT PALADINO -- HARD

For his part, Cuomo said Friday that Paladino's claims that he was unfaithful to Kennedy was "hurtful" and "destructive" to his three children. "Now he says it was a baseless accusation," an angry Cuomo told reporters during a campaign stop inthe New York City borough of Staten Island.

The Cuomo campaign struck back hard with a blistering TV ad that accused Paladino, a Buffalo-area real estate developer, of having "given almost a half-million dollars to politicians and who gets insider deals from Albany."

The ad claimed that Paladino "got a 1.4 million-dollar tax break to create jobs, but his official filings show that only one job was created." and blasted the Tea Party-backed Republican as "a welfare king who got rich by milking New York taxpayers."

PATERSON, PALADINO CAMP IN ANGRY WAR OF WORDS

Meanwhile, Governor David Paterson denounced Paladino as "unfit for public service" at a business breakfast, citing a series of pornographic and racially offensive e-mails Paladino sent to friends before launching his gubernatorial campaign six months ago. One of those e-mails included an image of President Obama dressed as a pimp and First Lady Michelle Obama dressed as a prostitute.

Paterson, who shared the dais with his predecessors, George Pataki and Elliot Spitzer, said he understood the anger over taxes and government excess that is powering the Tea Party movement, but that such anger should not feed the "shrill and . . . pedestrian antics of individuals who are unqualified to hold office at all, let alone be governor or United States senator."

Paladino's campaign spokesman Michael Caputo blasted back at Paterson, calling the governor, who is legally blind, "addled" -- a derogatory term for a person with attention deficit disorder, or ADD, which Paterson does not have -- and pointing out that Paterson was investigated for taking free tickets to the World Series and for getting involved in a domestic-violence case against a top aide who subsequently resigned.

"Nearly all New Yorkers are counting down the days until he stops embarrassing this state," Caputo said.

WHITMAN ROCKED BY SCANDAL OVER HIRING ILLEGAL IMMIGRANT HOUSEKEEPER

In California, the campaign of Republican gubernatorial candidate Meg Whitman, who spent months on the campaign trail talking tough against employers who hire illegal immigrants, was rocked to its core Wednesday by Whitman's bombshell admission that the billionaire former eBay CEO and her doctor-husband had themselves employed an illegal immigrant as their housekeeper.

Whitman insisted that she didn't know that her nanny and housekeeper of nine years, Nicky Diaz Santillan, was an illegal immigrant until the housekeeper acknowledged her undocumented status last year, to which Whitman said she responded by firing her.

But Diaz, in a emotional press conference in Los Angeles with her attorney Gloria Allred, told reporters that Whitman was dismissive when Diaz asked for her assistance in obtaining legal immigrant status and told her upon her dismissal, "From now on, you don't know me, and I don't know you."

Whitman "treated me like a piece of garbage," a tearful Diaz said. "She treated me as if I were not a human being."

Allred said that the Social Security Administration had alerted Whitman and her husband, Dr. Griffith Harsh, back in 2003with a latter notifying them that Diaz' Social Security number did not match the number the agency had in its database -- which, the attorney said, should have served as a "red flag" about Diaz' legal status.

Whitman hotly denied ever receiving such notification, and a campaign spokesman blamed Diaz. "Nicky handled all of the mail into and out of the house," Whitman spokesman Andrea Jones Rivera said.

But almost immediately after Whitman's denial, Allred produced a copy of the Social Security Administration's letter, dated April 2003, in which the agency informed Whitman and Harsh that, "We can't put these earnings on the employee's Social Security record until the name and Social Security number you reported agree with our records."

The copy of the letter included a handwritten note addressed to Diaz that read, "Nicky please check this. Thanks." Allred said the handwriting was that of Harsh, which the attorney said proved that, at the very least, Harsh knew that there was a problem with Diaz' status with the Social Security Administration. Harsh acknowledged that the handwriting on the letter was likely his, but said that he has no memory of receiving the letter.

The revelation about Diaz came only a day after Whitman and her Democratic opponent, former Governor and current state Attorney General Jerry Brown, clashed over immigration in their first televised debate, with Whitman saying she "wouldn't support a path to legalization" for illegal immigrants and that "we have to secure the borders" and called for the imposition of tougher sanctions on employers who hire illegal immigrants.

The fallout from the Whitman scandal was swift. A conservative political action committee issued a statement Thursday demanding the arrest of both Whitman and Diaz for "numerous immigration and employment law violations."

William Gheen, president of the right-wing Americans for Legal Immigration Political Action Committee (ALIPAC) demanded that Diaz "be charged and deported" and that Whitman "face the existing penalties under current U.S. law as well."

IN DELAWARE, O'DONNELL CAUGHT HAVING LIED ABOUT HER EDUCATION ON JOB RESUMES

Ever since she scored a stunning upset victory in the September 14 Delaware Republican Senate primary over former Representative Mike Castle, Tea Party-backed nominee Christine O'Donnell has endured one embarrassing revelation after another, primarily video clips of controversial remarks on social issues stemming from her past role as an arch-conservative social activist with ties to the Religious Right.

O'Donnell, who first gained national exposure in the mid-1980s as a spokeswoman for conservative activist Phyllis Schlafly's Concerned Women for America, had been dogged by her statements on masturbation, the use of condoms, the fight against AIDS, the role of women in the military, and even witchcraft.

But now, O'Donnell has come under fire for apparently having made false statements about her education on her job resumes.

Oxford University in Britain and Claremont Graduate University in California both denied O'Donnell was a student in their institutions, contrary to statements on her resumes that she was a student at the two schools.

Rod Leveque, a spokesman for GCU, issued a statement to TalkingPointsMemo.com declaring flatly that "Claremont Graduate University has no student or education record for an individual named Christine O'Donnell."

In fact, O'Donnell received a Lincoln Fellowship in 2002 from the Claremont Institute, a conservative think tank which is not related in any way to Claremont Graduate University.

The university's denial came just days after it was revealed that O'Donnell falsely listed Oxford University in the educational record portion of her profile page on the professional social network, LinkedIn.com. The page has since been taken down.

Actually, O'Donnell was a student of the Phoenix Institute, a conservative Christian educational organization which rented space on the campus of one of Britain's two most prestigious universities -- home of the world-famous Rhodes Scholarships.

The new controversies come on the heels of earlier questions about O'Donnell's tenure at the Intercollegiate Studies Institute, a conservative think tank which O'Donnell sued for gender-based discrimination. O'Donnell's $6.9 million lawsuit claimed that ISI "violated its promise to allow Miss ODonnell time to take Master's degree classes at Princeton."

But O'Donnell's campaign manager, Matt Moran, later acknowledged in a statement to the conservative Weekly Standard magazine that O'Donnell did not have her Bachelor's degree at the time she filed her lawsuit and only audited one undergraduate class at Princeton.

NEW CONTROVERSIES AN EERIE ECHO OF SCANDAL-PLAGUED 2006 GOP CAMPAIGN

The sudden eruption of controversies involving Republican candidates in this year's midterm elections is eerily reminiscent of the scandal-plagued -- and ultimately ill-fated -- GOP campaign in 2006 to keep control of Congress.

Remember Mark Foley? The Florida Republican congressman resigned in disgrace after revelations that he had sent sexually suggestive e-mails to teen-aged male Capitol Hill pages.

Foley later claimed that he was gay, but sources familiar with Foley told The 'Skeeter Bites Report that they could not recall Foley ever having had relationships with adult gay men and that, to the contrary, strong evidence emerged elsewhere that the disgraced former congressman had a pedophile, rather than homosexual, orientation.

Then there was Representative Don Sherwood (R-Pennsylvania), who in 2004 allegedly assaulted Cynthia Ore, a woman with whom he was having an extramarital affair. No criminal charges were ever filed against Sherwood, but Ore later filed a $5.5 million civil lawsuit against Sherwood, accusing him of repeatedly assaulting her during their relationship. On November 8, 2005, Sherwood and Ore ended the lawsuit by reaching a settlement, the terms of which were not released.

The relationship became public only when Veronica Hannevig, who ran against Sherwood on the Constitution Party ticket in 2004, distributed copies of the police report to several newspapers and television stations. As in the Foley case, the House Republican leadership knew about Sherwood's indiscretions, but took no disciplinary action against him. Sherwood subsequently lost his bid for re-election.

The Republican Hall of Shame class of 2006 also includes:

# Then-Representative Jim Gibbons, the 2006 Republican nominee for governor of Nevada, who was dragged into a scandal in which there were allegations that he made unwanted sexual advances toward a woman on the night of October 13, 2006 -- a Friday -- and assaulted her outside a Las Vegas restaurant when she refused. Despite what came to be known as the "Friday the 13th scandal," Gibbons won the election, only to see his tenure as governor plagued by continued controversies. He lost his bid for re-election in the June 9 GOP primary.

# Representative Bob Ney (R-Ohio), who was brought down by the Jack Abramoff influence-peddling scandal. Ney was forced to resign from Congress after he pleaded guilty to charges of conspiracy and making false statements in relation to the scandal. Ney was identified in the guilty pleas of Abramoff, former House Minority Whip Tom DeLay's deputy chief of staff Tony Rudy, former DeLay press secretary Michael Scanlon and former Ney chief of staff Neil Volz for receiving lavish gifts in exchange for political favors. Ney now hosts a radio talk show in West Virginia.

# The chief of staff of Representative Rodney Alexander (R-Louisiana), whose former page was one of the first to receive inappropriate e-mails from Foley -- who was sued by a former member of his staff for sexual harassment. Royal Alexander (no relation) was accused of engaging in "a course of misconduct" toward Elizabeth Scott, who worked as a scheduler for Representative Alexander form 2005 to 2006. including "inappropriate sex-based comments, ogling and touching." The congressman's office maintained Scott made her claims in retaliation for having been demoted by Royal Alexander for incompetence. Within months following Royal Alexander's unsuccessful run for Louisiana Attorney General in 2007, the case was dismissed.

NEW SCANDALS LIKELY TO MAKE GOP'S GOAL OF RETAKING CONGRESS MUCH HARDER

With the new scandals roiling an already volatile campaign, the GOP's sky-high hopes of retaking Congress have suddenly been thrown into doubt. And the fact that these new controversies have erupted right at the beginning of the all-important final month of the campaign -- perhaps the 2010 edition of the long-dreaded "October Surprise" -- could not come at a worse time for the Grand Old Party.

But with the electorate still very much in a throw-the-bums-out mood over the continued sour economy, it remains to be seen whether this latest turn of events will translate into a third consecutive anti-Republican backlash at the polls.

# # #

Volume V, Number 39
Copyright 2010, Skeeter Sanders. All rights reserved.



Sphere: Related Content